Just some thoughts and reflections.
| | |
| --- | --- |
| Posted on August 10, 2020 at 1:15 PM | |
I have been meditating and connecting to the Creator of All That Is in order to release my fears and the fears of other people.
Let's consider that we all naturally have a very cool intuitive sense.  As part of this natural ability, we pick up what other people are thinking and feeling.  It makes sense that we've picked up those fears and even terror of the unknown, like death, with our intuition.  We might also be holding on to a fear that using your gut feeling will make people gossip about you or worse!    
Fears are supposed to keep us safe, but in my experience, we hold back from love and health when we nurture that fear.  
My idea for today is to breathe, have some quiet heart centered time, and recognize what of my fears no longer serve me.  Join me?  Imagine or visualize the color and smell of those fears, then ask for the creative LOVE that made you to remove the fears that aren't helping you.  In your mind's eye, imagine them moving up and away from your energy.  Ask for unconditional love to replace those fears. Imagine what THAT feels like. 
It is safe and easy to recognize and release what isn't really keeping you safe.  Consider that. Know that you are part of the love that made us. You're not alone.
| | |
| --- | --- |
| Posted on February 8, 2017 at 11:55 AM | |
I've been attending a few funerals and a few graduations over the past few months.  This has given me an opportunity to think about how death and graduations are similar.  We always need a ceremony to make an idea real, and to help with the transition as human beings. That's the viewing or family visitation time in the case of a death, followed by a funeral where we try to make ourselves feel better about there being a better spiritual place for our departed loved one.  In the case of completing a set of classes or getting a degree, we have a long preparation time, photography sessions, final exams, caps and gowns, seating practice, spell check you name if you have my last name, and then a ceremony.
During the ceremony times, I feel like the fear of the unknown happens to most of us humans.  Will it be hard, will I suffer? What is next? Am I prepared for this next step? Will I succeed?  I don't want to leave my comfortable place where I've been studying for so long!  This is what makes me think that death and graduations are so much alike.  In my own reflection times, I have had the opportunity to listen to the voice of God for messages about how death is exactly like a graduation.  There is so much more to be experienced, and so much more to be learned.  The spiritual applications and lessons are incredible, and they don't stop when you move into your next  spiritual phase!
On Super Bowl Sunday, I thought about our dear friend Joe and missed the fact that he always invited us over to watch the game.  What a good guy! He always had such a big heart, and showed it all the time.  I used to have to go to his house or go to a motorcycle event to see him and to catch up, because he didn't do Facebook.  Since his unexpected graduation into his next spiritual learning time, I send his spirit love, which is better than commenting on his wall by the way!  
Consider this with me, that there are so many unknowns until you actually stop to release your fears and LISTEN to the voice of our Creator!  You can understand some amazing things, and feel the connection to other planes of existance.  It's just like graduating. You DID learn enough, and you CAN move ahead!
| | |
| --- | --- |
| Posted on February 18, 2016 at 8:50 PM | |
Join us on Saturday, March 12th, 2016 at noon for the Developing Intuition Using Crystals Class at  Amazing Spiral.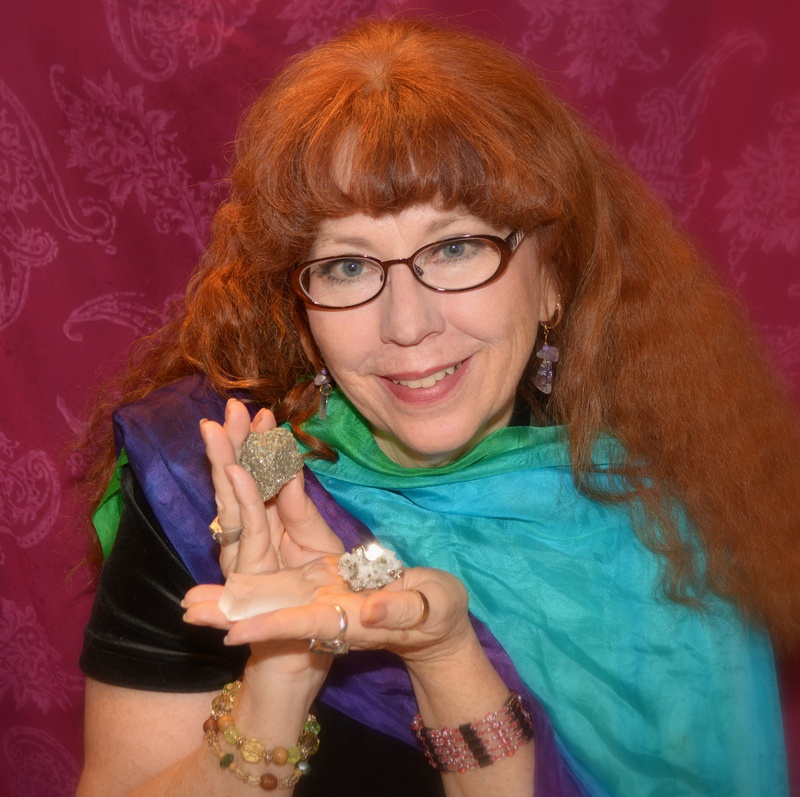 | | |
| --- | --- |
| Posted on July 15, 2015 at 9:50 PM | |
I've been talking to a lot of people recently who have huge expectations of themselves.  I'm also a perfectionist and want to go to extremes most of the time. I relate to huge expectations.
(Remind me some time to talk about hot yoga!) When I check in with God, I've been getting a recurrent message to not be so hard on yourself.  That works for me too.
Let me encourage you to set aside time for a meditative moment. A moment you connect to something else. What can you do everyday? What are you already doing? Taking your dog for a walk? Breathe in the freshness of the (oh so early) morning air. Remind yourself to see beauty in everything around you, to see the holiness in nature, the loveliness of your little creature.  Take that attitude back with you as you center your breath and meditate for a moment.  Do you drink a warm beverage? Bless it. See how easy it can be? Brush your teeth with gratitude! Attaching mindfullness to your daily activities is a nice step to take.

The reflection is this:  You are a part of the creation, you are always connected.  Take some quiet time to listen to the divine.
Then Repeat...

| | |
| --- | --- |
| Posted on April 16, 2015 at 10:50 AM | |
I find that, as a Theta Healer, many people expect me to be super religious, ephemeral, or other worldly. However, I am one of the many people who liked the movie Zombieland. Even in re-runs, I find myself watching The Walking Dead and imagining how I could work on pulling limiting beliefs from Tyrese and Carol. I really want to help Carl through his difficulties after having to "save" his mother. (In case you are not familiar with the story line.) Resentment of the people of Woodbury or Alexandria is a big issue for our main characters to work on. Yes, I know that it is just a television show, but the basics of allowing Creator to resolve and remove these toxic feelings is a recurrent theme for me. Daily life, and weekly television shows serve as a reminder of the connectedness of all aspects of life. Faith and assuredness are part of my breathing, so of course, Creator could cure a zombie apocalypse!